0
Ok, there is no need to fry my already abused Arduino just yet. after my power surge scare yesterday, i feel that maybe i should refine the software aspect a bit more before plugging random arrays of switches into my usb port via my exposed microprocessor board(?!?!) i don't have to mess with the physical switches just yet.
currently, the project is to get pure data to interpret the various switch on/off signals, as midi, or rather, as musically relevant data. so far, my system consists of taking each of 8 switches,and assigning it to an 8-bit multiple of itself, i.e. 1=0, 2=2, 3=4, 4=8, 5=16, 6=32, 7=64, 8=128. when combinations of these numbers are added together, they create a unique sequence of 8-bit numbers between 0-255 which can be associated with a unique midi note number. the sequence of key presses i have chosen relate directly to what is known as a "Boehm" fingering method.
(information sourced from wikipedia http://www.wikipedia.com/wiki/Boehm_System)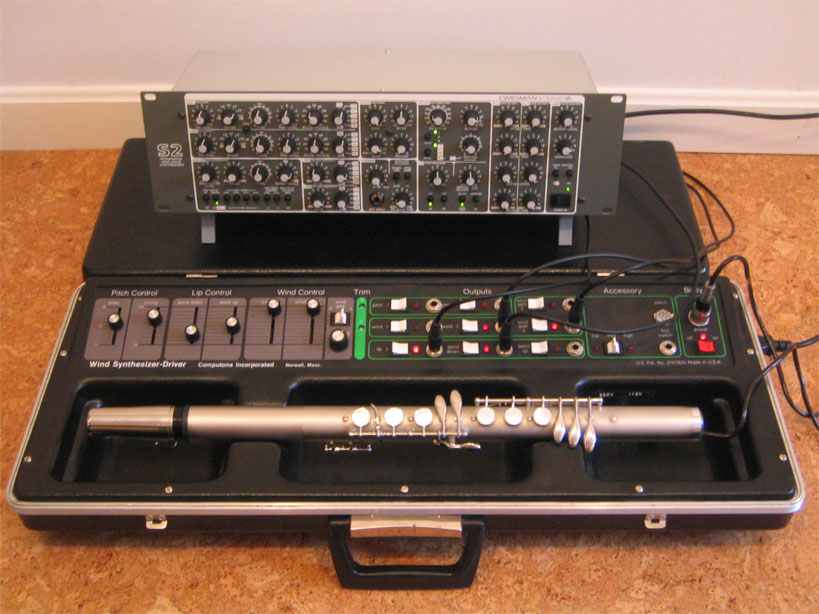 The Boehm System is a system of keywork for the flute, created by inventor and Flautist Theobald Boehm between 1831 and 1847. he had been inspired, in 1831, by a concert in london given by Charles Nicholson, who had constructed a flute with larger tone holes and these larger tone holes could produce a larger volume of sound. Boehms design was full vented meaning that all keys were normally open and required a system that would allow a key press to close and/or open a second tone hole,depending on the note and register. the system was adapted to other woodwinds including saxophones, clarinets and bassoons. this created a sort of standardization that carried on to electronic "woodwinds" such as the analog Lyricon wind synthesizer of the 70's, the E.W.I. (Electronic Wind Instrument) from akai, and the wx series wind midi controllers from Yamaha, both introduced in the 80's. I have personally played many of these instruments, acoustic, analog and digital, and find that the fingering system translates very well amongst all of them (i.e. a flutist can adapt to playing sax or clarinet more easily than to, say, a trumpet). the Boehm fingering system is alive and well and soon will live on in my design.
The boehm system will predominate the midi-instrument control aspect of the TRON Beatjazz Controller system, but that aspect, as important as it is,will be a small part of a larger musical concept. these same keys will do double duty as a gestural system that interacts with the accelerometers to control various systems such as instrument sound selection, fx control, looping systems, color synthesis,and eventually live performance sound design itself.
Today though, the goal is to get the system to send clean midi data. then to integrate the pressure sensor to control the duration and volume of that data. once that has been massaged properly, I can then focus on replacing the virtual TouchOSC generated switches with switches that are interfaced thru the Arduino system, which is the open source microprocessor platform i have chosen for this project because of the amazing amount of information on how to incorporate them into your projects,and the increasing diversity of form factors.
The TRON beatjazz controller system will make use of 3 Arduino boards all made by a company called Seeeduino. 2 for the hand units which are wireless networking nodes (seeeduino stalker combined with an xbee wireless module each) and the helmet unit will be a tiny flat wearable version (the seeeduino film) that will be essentially "taped" to the inside of the helmet! all three are based on the same opn platform specs and are programmable in the exact same way. and luckily, pure data already has an "object" for interfacing with them, creatively called "arduino", so once the data protocols are stable, integrating them with the hardware "should" be a piece of cake! #famouslastwords
If you would like to see the project happen...like, REALLY happen, go over to www.indiegogo.com/tronbeatjazz and check out the some of the unique things on offer in exchange for a contribution that will make this system a reality. no joke...the goal is to create the most amazing live performance system ever, but it needs you to make it happen.
stay tuned...